Well....it's here.....Thanksgiving week! I cannot believe it! I am ready to do some serious eating on Thursday....but we have a busy few days leading up to it, so this week I am sharing some of my favorite quick and easy meals!
If you need a dessert idea for Thursday, I shared my
pumpkin cupcake
recipe last week. I think they would make a perfect addition to your Thanksgiving dessert table.
one
Tonight I will cook once and eat twice. Just what I need for a busy week. These
Turkey Stuffed Peppers
will be tonight's dinner, but when you see the recipe, just brown
double the ground turkey
you need and save half for tomorrow's Taco Salads. Follow the
recipe
for the stuffed peppers, except during your first step, double the meat, using 2lbs. Once the meat is browned (and before you season it), transfer half to a separate dish and sprinkle with 2 TBSP of taco seasoning and 1/4 cup of water. Allow to cool and store in fridge for meal two.
These Taco Salads are simple, easy and a kid favorite. You just have to set up a taco bar with lots of great toppings, your meat is all prepped from the night before! I like to warm it up before topping my salad. Some of our favorite toppings are tomatoes, black olives, black beans. avocado, chopped cilantro, crumbled tortilla chips, salsa, shredded cheese and Greek yogurt. There is usually so much flavor with all of that, there is no need for a dressing. If you need a dressing, you can mix up some plain Greek yogurt with salsa and it makes a creamy topping for your salad!
If you are working with your kiddos to eat salads.. maybe it's not their thing yet... make it a taco bowl. Add some crunchy chips, let them pile on some veggies and go from there. No need to make a separate meal, just use pieces of this one to make it work!
three
Need a meal that comes together quickly?? These Asian Chicken Lettuce Wraps are perfect for those nights! On your prep day, chop one head of Napa cabbage, thinly slice 1 red bell pepper and dice 3 medium carrots and one small onion. Put your carrots and onion together and put the cabbage and pepper in a large bag. On the night you are having this, heat 3 TBSP coconut oil in a large pan and add your carrots & onions, cooking over med-high heat until softened. Dump in your cabbage & peppers, cover and cook until softened. Add in some shredded rotisserie chicken and a few shakes of liquid aminos (or soy sauce) and toss. Then fill large romaine leaves with the mixture. They remind me of those lettuce wraps from P.F. Chang's!
four
Happy Thanksgiving!! Turkey, pie and more!
five
Hopefully you have some leftover turkey and can make a great
turkey cobb salad!
If not...not worries, you can grab some deli turkey!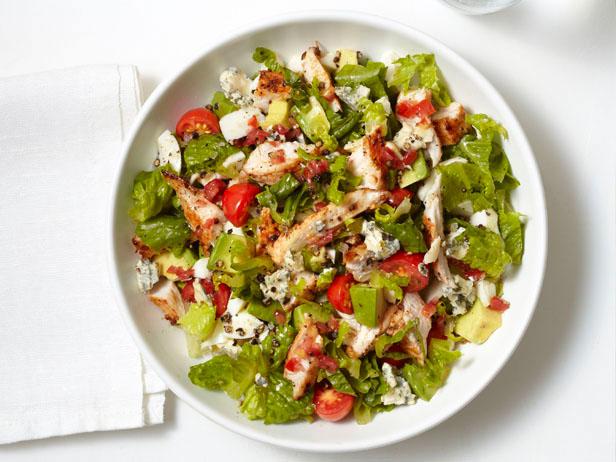 Have a great Monday! See you tomorrow for Tuesday Talk....there's always room for one more at our family table.
xoxo
Genevieve